Global Professional Development
This enrichment conference provides pre- and in-service educators with rich experiences to be embedded in local Chilean schools and family homes, broadening their perspectives on the cultural, emotional, and developmental supports provided to second-language learners.
During their three-week experience, participants work with students from PreK through 12th grade as well as direct collaboration with a Chilean counterpart teacher to gain significant experience with bi-/multilingual English leaners. Ultimately, conference participants gain 120 hours of embedded professional engagement that creates a truly life-changing experience that participants can apply in their own home contexts upon return to the U.S.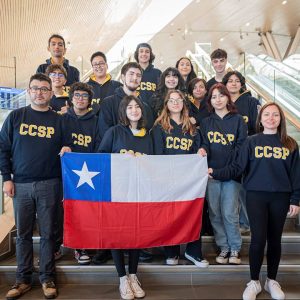 Learn more about this global teaching conference and what you can expect from your three-week experience.
Working with local PreK-12 bilingual, dual language immersion school participants will be paired with partner Chilean educators for the three weeks. During the school day you have the opportunity to engage in a variety of educational, instructional, and professional interactions both with Chilean and US counterparts. The program is an excellent opportunity to develop through a culturally embedded professional development conference.
Prior to the start of the conference experience participants and their Chilean host teachers will have the opportunity to connect via email, FaceTime, Zoom and other means to share ideas and plan for the conference experience. During the conference experience mutual shared professional knowledge is the approach, and we provide professional development for both participants and hosts. Each participant will be certified as having completed 120 hours of professional development through equivalent continuing education units.
Afternoons, evenings, and weekends are spent with your host families from the school where you have the opportunity to live Chilean culture from the inside out. During our time in Chile, participants are members of the host family. The goal is to speak as much English as possible with the host children who have been learning English in school and to incorporate yourself into the daily life of the family. The generosity of the host families allows us to keep the cost of this program as low as possible – as a result our obligation is to be incorporated with the families. We will do group interactions during the day and there will be opportunities for group bonding during the school day but afternoons and weekends are to be spent with the host families.
Colegio Concepción San Pedro | Concepción, Chile
Conference Dates: May 13 – June 2, 2023
For nearly 70 years, Colegio Concepción San Pedro has sought to provide its students a comprehensive and excellent education which allows them to perfect the development of their skills in the ethical-value, social, cognitive, and affective dimensions along with with solid moral principles, through the permanent cultivation of universal values. Using challenging, significant, contextualized pedagogical strategies, students become leaders with a strong citizen formation in a society in continuous evolution.
Nestled in the center of the country, the landscape of Concepción and San Pedro line the Pacific coast of southern central Chile.
Southern Cross | Santiago, Chile
Conference Dates: June 6-26, 2023
Southern Cross sees learning as the nerve center of the intellectual and moral development of students. Prioritizing collaborative relationships, respect for people, acceptance of differences and a thoughtful and fair exercise of authority, Southern Cross is committed to the personal, social, and intellectual development of its students and translates into effective actions and practices throughout their school experience. From teachers, they expect the highest degree of professionalism and commitment to the students who depend on them for their education; of the students work and dedication; of parents genuine commitment to their children and to the goals of the school.
The largest and capital city of Chile, Santiago is a modern city with a beautiful urban landscape coupled with access to the heart of Chilean cultural and social life.
Attendee Registration Information
Conference registration fee (per conference experience, per person) is $1,500. The registration fee includes: 1) room and board facilitated with a host family; 2) professional development sessions; 3) materials for the experience; 4) fleece jacket; and 5) health and emergency insurance.
All conference participants (including NITEP and NIEPRR Fellows) will be responsible for their own 1) airfare, 2) spending money, and 3) any outside travel funds (if applicable).
Step 1: Apply for the Conference Experience(s)
Your application will include:
General Information
Professional Profile (to place you with a host teacher)
Personal Profile (to place you with a host family)
Note: Each conference experience is limited to 15 participants each. Candidates who have/currently serve(d) as NITEP and/or NIEPRR Fellows and those who wish to participate in both conference experiences (Concepción and Santiago) will be prioritized.
Step 2: Pay Your $500 Conference Deposit
Deposit due with application
Your $500 deposit is required as part of your application process. Any participants who are not selected for the experience will be refunded their deposit.
*Note: Conference deposits and fees are covered for NITEP and/or NIEPRR Fellows who choose to participate in this conference experience. Check your RebelMail/Slack for a promo code to apply to your deposit/registration.
Step 3: Candidate Review & Interviews
As part of the application process, each participant will complete a teaching and personal profile to highlight your experiences and interests. This profile will be used to match participants with both a Chilean classroom teacher and to host families.
Candidates will be notified of acceptance to program within 10 business days of submitting applications.
Upon acceptance, candidates will also be required to complete a 15-minute Zoom interview with the Global Education team. This will be scheduled individually with conference applicants.
Step 4: Pay Conference Registration Fee Balance
After Interview Process Is Complete
Successful applicants will be responsible for paying for the balance of their conference experience ($1,000) on Eventbrite. You may pay in any increment you choose.
You full conference registration fee ($1,500) must be paid 10 days prior to the first day of the conference.
Frequently Asked Questions
Global education initiatives are made possible thanks to generous funding from the Nevada Department of Education to support the Nevada Institute on Educator Preparation (NITEP), the Nevada Institute on Educator Preparation, Retention, & Research (NIEPRR), and the Nevada Educator Preparation Institute & Collective (NV-EPIC).